Digital Transformation in Mining
The mining industry is embracing the opportunities of digital transformation and facing up to its challenges.
Fiven years after this cenntury's commodity boom peaked in 2011, the global Mining and Metals industry is still adjusting to a set of strong headwinds. These include anaemic global demand growth as China's economy shifts away from resource-intensive manufacturing; massive excess capacity, weak pricing and increasing volatility; workforce skills gaps; increasing pressure from customer requirements; growing resource nationalism and regulation; declining resource access and quality; and mounting trade friction along with all steps in the value chain.
The impact of industry trends on the Mining and Metals industry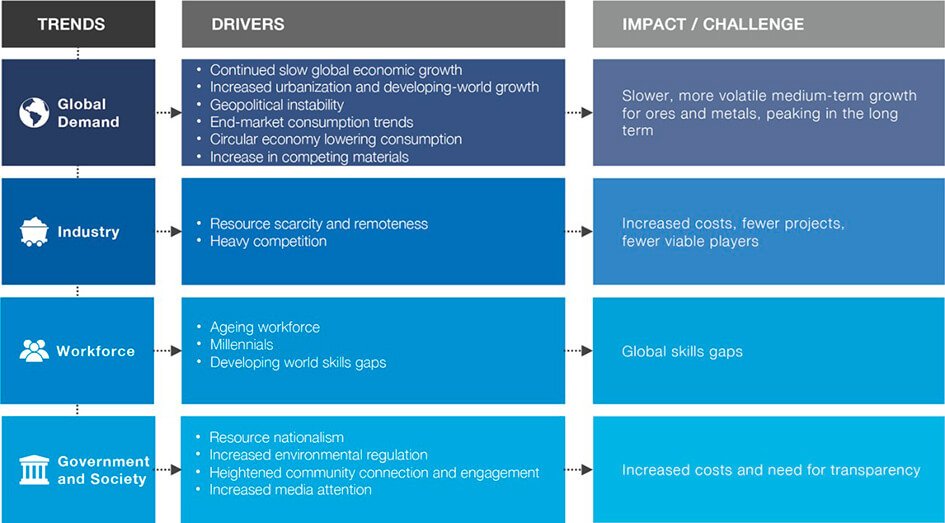 Source: World Economic Forum
There is no evidence to suggest that these trends will reverse any time soon. On the contrary, they are likely to persist indefinitely, defining the industry's 'new normal. Moreover, across industries, the current value chain structure with incumbent businesses is being challenged not only by macroeconomic conditions but by increasingly fast-moving and pervasive digitalization.
Digital themes
These digital technologies have tremendous potential to move beyond stagnant growth and deliver exceptional shareholder, customer and environmental value. In particular, there are four themes that are expected to be central to the digitalization of the industry over the next decade
Automation, robotics and operational hardware


Deploying digitally-enabled hardware tools to perform or improve activities that have traditionally been carried out manually or with human-controlled machinery. Key initiatives in scope are sensors, robots and 3D printing.
Digitally enabled workforce
Using connected mobility, and virtual and augmented reality to empower field, remote and centralized workers in real-time. Key initiatives in scope are connected workers and remote operating centres.
Integrated enterprise, platforms and ecosystems


Linking operations, IT layers and devices or systems that are currently separate. Key initiatives in scope are information technology (IT) and operational technology (OT) integration, asset cybersecurity and integrated sourcing, data exchange and commerce.

Next-generation analytics and decision support


Leveraging algorithms and artificial intelligence to process data from sources within and beyond the traditional value chain to provide real -time decision support and future projections. Key initiatives in scope are advanced analytics, simulation modelling and artificial intelligence.
Putting a value on digital transformation
Our value-at-stake analysis is a quantitative model that aims to assess the cumulative value impact over the next 10 years of digital transformation initiatives on the Mining and Metals industry, its customers, society and the environment. Key findings from this analysis show that digitalization could generate:
More than

$425 billion of value

for the industry, customers, society and environment over the next 10 years (to 2025). This is the equivalent of

3-4% of industry revenue

during the same period.

More than

$320 billion of industry value

over the next decade, with a potential benefit of approximately $190 billion for the mining sector and $130 billion for the metals sector. The total for Mining and Metals is equivalent to

7% of industry revenue

and

9% of industry profit

.

A reduction of

610 million tonnes of CO2 emissions

, with an estimated value to society and the environment of $30 billion.

An improvement in safety, with around

1,000 lives saved

and

44,000 injuries avoided

. This equates approximately to a

10% decrease in lives lost

and a

20% decrease in injuries

in the industry.
However, the potential loss of about 330,000 jobs, or nearly 5% of the workforce, over the next decade as a consequence of increased digitalization must also be considered and, where possible, mitigated.
Mining and Metals: value at stake for industry and society (2016-2025, by digital initiative)

Source: World Economic Forum
Case study: Unlocking societal value through the connected worker
Connectedmworker technologies have numerous applications in the industry. For instance, equipping workers with connected, intelligent wearables and mobile devices allow mine and plant management to capture critical information in real-time. This also enables seamless communication; immediate, remote expert assistance, diagnosis and real-time guidance; and 'follow-complete-document' workflows that can be carried out directly in the field. Through better tracking of individuals, especially in dangerous events, it is estimated that around 500 lives could be saved and more than 20,000 injuries prevented during the next decade.
Implications
Advances in digital technology could transform Mining and Metals as an industry and at the enterprise level. Though the digital technologies and capabilities discussed are in varying stages of maturity and usefulness, one can already see a vast difference across Mining and Metals companies in terms of testing, adoption and expected benefits. For those organizations that can move from being digital laggards to digital-first movers, the value is real; a pro forma projection of value at stake at the enterprise level for an average Mining and Metals company showed a substantial increase in 2025 EBITDA of a digital first-mover versus a digital laggard.¹ Companies – in collaboration with the larger community – must take steps to enhance their digital capabilities, helping them improve their bottom line, become more responsive and resilient to industry challenges, and develop into more sustainable, transparent organizations.
Recommendations for a successful digital transformation
Successful digitalization will require collaboration between industry leaders, communities and policy-makers. The following is a set of considerations developed for both industry and other stakeholders.
For industry
Align strategy and operations towards innovation:

Build a focused strategy that incorporates digital, and align it with your business model, processes and organization, to encourage digital usage and experimentation.

Look outside your current business:

Players that effectively connect outside their current portion of the value chain can extract further value, whether it be connecting or engaging in new areas with buyers, suppliers, customers or value-added activities and products.

Improve data access and relevance:

Focus on getting real, applicable insights from data and sharing them clearly and effectively with the right levels of the organization.

Engage and train tomorrow's digital workforce:

Technology and innovation often fail not through lack of investment or weakness in the technology, but through a lack of cultural change. The digital worker of tomorrow must be engaged and prepared today.

Invest in alternative benefits, not just jobs:

Invest now in finding other ways to work with and compensate local stakeholders for the responsible use of their resources.

Forge new partnerships and strengthen existing ones:

Improving active and open partnerships is the foundation for best-in-class digitalization, stronger integration with local stakeholders, and even new models of operation and ownership of Mining and Metals fixed assets.
For communities, policy-makers and governments
Define effective digital standardization and regulation:

Define a set of data ownership and format standards that will encourage interoperability and the sharing of information across pieces of the digital ecosystem, while maintaining the levels of privacy and security that are needed.

Prioritize KPIs and aggregate data:

Though there are a number of possible key performance indicators (KPIs) that have been used to tie Mining and Metals to local development, there is no clear standard or repository that can give a full causal view or suggest how to best invest for industry and society.

Improve transparency and traceability:

Actively use digital platforms to trace and share information about sourcing, production, and environmental and community engagement.