In a recent research about digital transformation, only 33% of organizations successfully meet the challenge of digital disruption and main question and doubt came up. Which is the right strategic for our company full digital transformation? The Digital Strategy Roadmap services answer many questions in just 8-12weeks and it sets you up for success by laying out the transformation plan and the main KPIs needed to ensure your results match your goals and aspirations. You can avoid the key pitfalls of Digital Transformation understanding the gap between aspiration and reality as soon as possible. Most digital transformations start with high aspirations for a huge step change in performance. They move through the three key phases of blueprinting the high-level strategy, activating the initiatives and minimum-viable products, and scaling the organization – and they confront a reality that falls short of their hopes.
We offer to the market a full package of a digital solutions with our key partners to bring necessary rigor to the blueprinting phase. Each digital strategy roadmap engagement is customized to each customer situation and yields some essential deliverables to answer our customer´s questions.
Digital Target.

Digital Competitive Advantage

Prioritization of Digital Plans

Gap Analysis

Total or Part Transformation Roadmap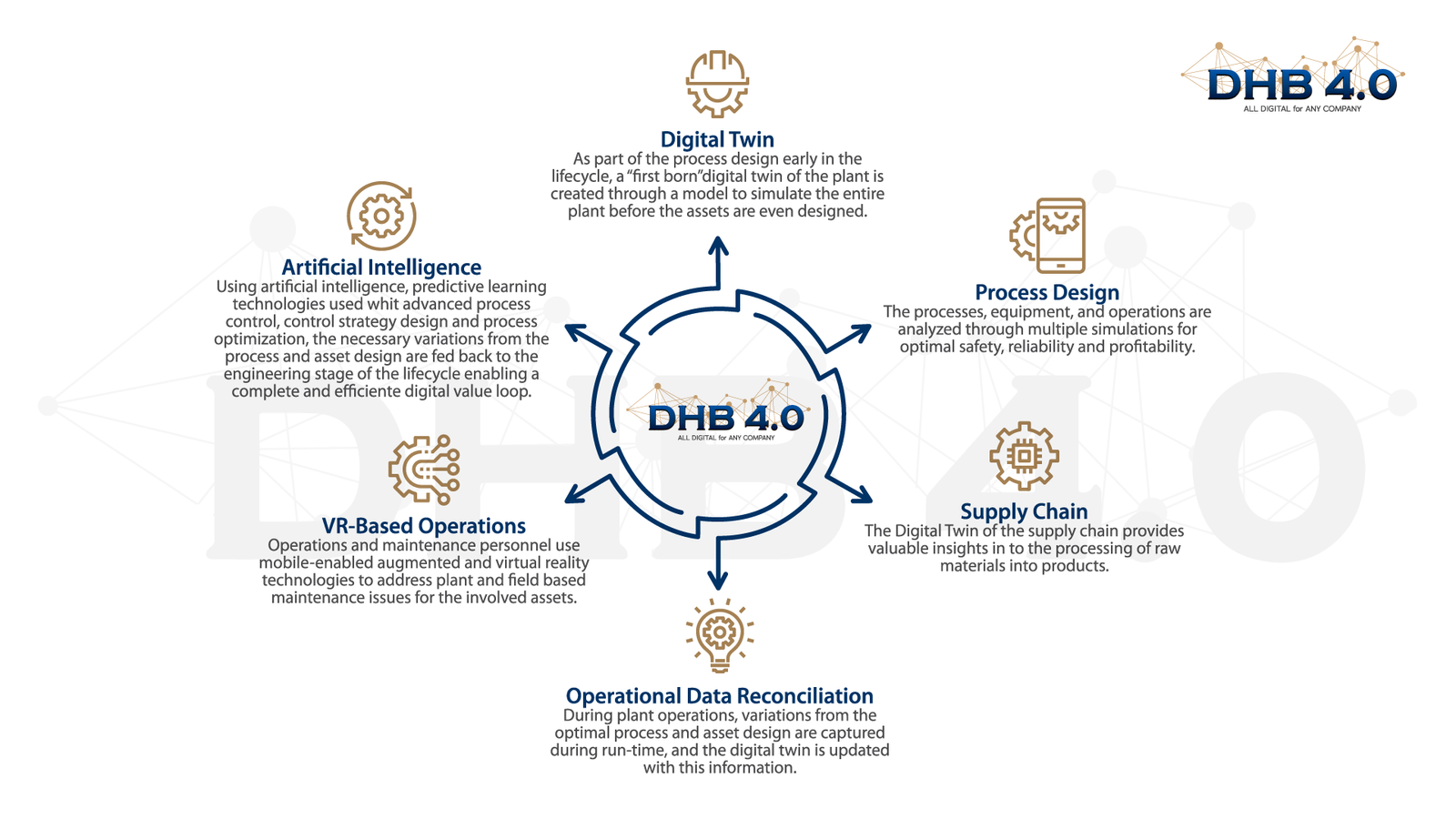 Our new solution developed by FlexSim Brasil allows to manage this information throughout the entire product lifecycle efficiently and cost-effectively: from conception, design and manufacturing to service and disposal. DHB4.0 is an information management system that integrates data, processes, business systems, and people in an extended and robust enterprise.
DHB4.0 can work as one integrated portfolio of software and services for electronic and mechanical design, system simulation and optimization, manufacturing, healthcare, operations and lifecycle analytics.
Information strategy: It builds a coherent data structure by consolidating systems.
Enterprise strategy: It lets global organizations work as a single team to design, produce, support, and retire products while capturing best practices and lessons learned along the way.
It empowers your business to make unified, information-driven decisions at every stage of the product lifecycle.
At FlexSim Brazil Digital Solutions, we believe it's not enough just to digitize your processes since it only mimics processes digitally for incremental improvement.
You need to digitalize weave a digital thread through ideation, realization, and utilization, and make that digital thread of knowledge a proactive agent in driving your business. With a fully optimized digital enterprise, you are better equipped to initiate or respond to innovation.
DHB 4.0 – DRIVING IMPACT WITH DIGITAL STRATEGY